Managing Multiple Service Providers - How to Eliminate Stress
Apr 25, 2022
System4 and ServiceSync Work Order Management streamline the process of managing your facility by managing all the vendors, all the contracts, and all the vendor compliance with just a touch of a button.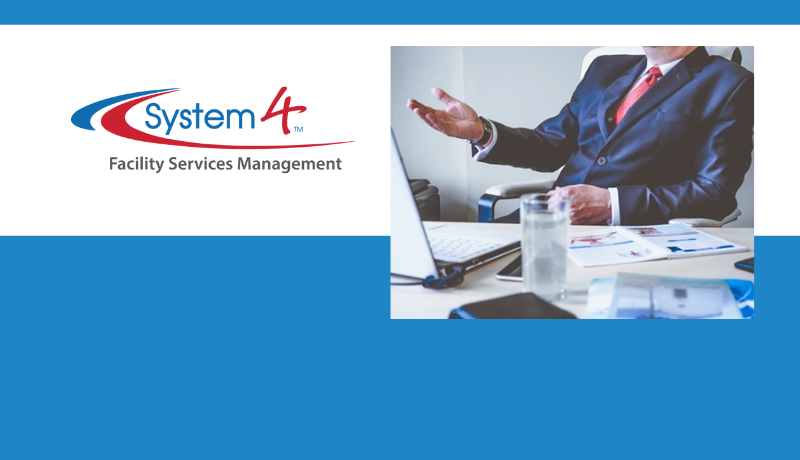 Organizing the cleaning of your facility or office space can be pretty stressful, especially in the post-pandemic world. This is even trickier for businesses and institutions relying on multiple outside vendors at the same time. In fact, communicating with multiple service providers might turn into an additional and unnecessary workload for your company and employees. Luckily, the logistics of managing multiple service providers can be handled relatively smoothly. Let's see how.
Compare the Costs and the Value of the Service Provider
The number one rule in the world of facility services management states that you need to be clear as to what the vendors and service providers exactly provider for the given price. Many businesses tend to assume that the costs of the given facility services must be justified. However, be sure to read the contract carefully. You might be paying for services that you have no use for. This is something that frequently happens when a business is managing multiple service vendors at the same time.
Hence, always double-check the conditions in the contract before you agree to partner up with a service provider. You should look for any hidden fees or strange formulations that might lead to the vendor charging you over the agreed price. Look for auto-renewal dates and other potential financial pitfalls. If you notice anything, contact the service provider to see if you are on the same page. If they give you muddled answers to your questions, then you should consider finding a service provider that does business transparently.
Taking the extra step to enquire about the terms and conditions before sealing the deal should eliminate a significant amount of stress in the future. However, if the thought of having to do this every time you hire new vendors annoys you already, then it might be better to consider hiring a company that will manage facility cleaning and repair and maintenance services for you.

Good Communication is Key When Managing Multiple Service Providers
As with anything, good communication is crucial for managing multiple service providers. Make an effort to establish a good working relationship with the vendor or service provider from the start. This means you should be clear about your schedule, expectations, and special requests.
Establishing a dedicated point of contact through an employee or a facility management organization will go a long way. This will counteract any misunderstanding that may occur in the future, making the entire communication much less stressful and time-consuming.
Clarify Your Company's Priorities
When hiring external vendors or services, it helps to give them regular updates about your business's needs. Hence, be sure to announce what your company's priorities are every step of the way. For example, if you are planning to create more space in your offices or facility through remodeling, you should announce this to your cleaning service provider. They might have to bring in more workers or extra suppliers to be able to help you clean up your office and make it spacious enough so that all of your office furniture and supplies fit neatly into the newly renovated space.
As much as this might seem obvious, sometimes businesses tend to overlook this when dealing with greater amount of workload or organizational issues within their company. It is, unfortunately, very easy to forget about managing all of your service providers when you are in the grip of quarterly accounting tasks, product launches, or office renovations.
Retain Quality Service Providers
Managing service providers is a lot easier if you stick to the ones you know for a fact are professionals. Remember – switching between different cleaning service providers and other facility service providers can cost you a lot of time and money. And losing time and money is stressful for any company, no matter how well you are doing.
So, you are collaborating with someone you can rely on to clean your facility thoroughly and punctually. However, they seem to charge more than their market competitors. Keep in mind that any cost savings you might gain by hiring someone more affordable may easily backfire. It might happen that the new cleaning company is not as responsible, experienced or flexible as your old one.
If this turns out to be the case, you risk losing a lot of time searching for an adequate provider by establishing a long-term business relationship with a cleaning company you already trust.
However, you can also turn to facility management companies that already have established and time-tested connections to the top commercial cleaning service providers in your area. This will allow you to focus on managing your business. You will eliminate the need to search for vendors, check their references, and read through contacts.
Keep Tabs on the Invoices to Successfully Manage Multiple Service Providers
The problem with too many service providers is, in most cases, a purely organizational problem. Luckily, consolidated invoicing should help you stay organized. So, one possible solution is to hire a facility management company that will conjoin the incoming invoices.
This will relieve you of the stress of tracking and paying every single bill that you get sent your way.
When managing multiple service providers, you should also keep tabs on when each contract needs to be renewed. As there might be associated fees, incorporating this into your regular service provider management really pays off.


Subscribe to CPS Communications