HD Supply and PPG Launch Pro Paint Assortment
Jul 26, 2022
HD Supply and PPG® Paint Program can simplify every paint project.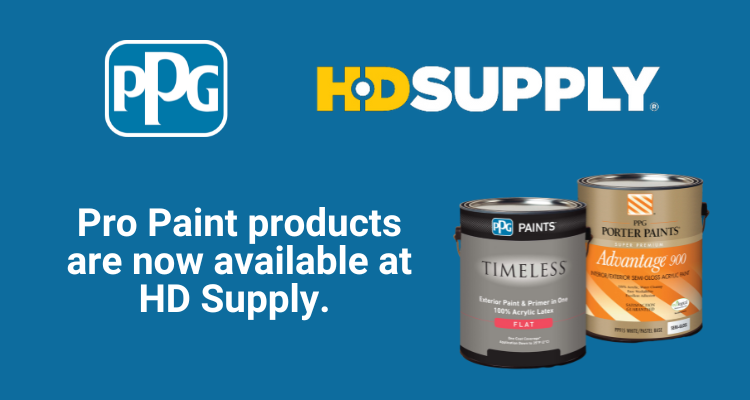 New, Full-Service Paint Solution
Nothing keeps your property looking new like a fresh coat of paint. But tight timelines and even tighter budgets create significant challenges for any improvement project.
Our new program brings the paint store experience to you, complete with paint
service expertise, direct delivery of your
paint and supplies—along with your other maintenance essentials—from your single source supplier, HD Supply.
For more information regarding the new program.
PPG and The Home Depot, HD Supply Expand Relationship With Launch of Pro Paint Assortment at All U.S. Locations
PITTSBURGH--(BUSINESS WIRE)-- PPG (NYSE:PPG) today announced an expanded relationship with The Home Depot® and HD Supply® to offer an extensive lineup of professional PPG paint products and services designed exclusively for professional customers. The new product lineup began rolling out on shelves in the fourth quarter of 2021 and will be available in all U.S. Home Depot stores.

"Through this expanded strategic relationship with The Home Depot, we are leveraging the strengths of our combined organizations to deliver tremendous value to the professional customer," said Jaime Irick, vice president, architectural coatings, U.S. and Canada. "We look forward to utilizing PPG's team of paint experts, leading professional paint products, and national, digital fulfillment network in combination with The Home Depot's vast national store footprint to service the professional and drive strong growth for both organizations."

The relationship will leverage PPG's best-selling sub-brands nationally, including PPG SPEEDHIDE® Interior, PPG BREAK-THROUGH!®, PPG MULTI-PRO®, PPG Speedhide Pro-EV Zero, PPG PERMA-CRETE® concrete paint and stain, PPG PERMANIZER® exterior paint, PPG PITT-GLAZE® WB1 Epoxy and PPG SpeedhideMAXPRIME™interior primer/sealer. PPG COPPER ARMOR™ antimicrobial paint powered by Corning® Guardiant® technology will also be available.

The full product lineup will also be available through HD Supply, a wholly-owned subsidiary of The Home Depot and a leading national distributor of maintenance, repair and operations (MRO) products. Click here for the full press release.
Subscribe to CPS Communications